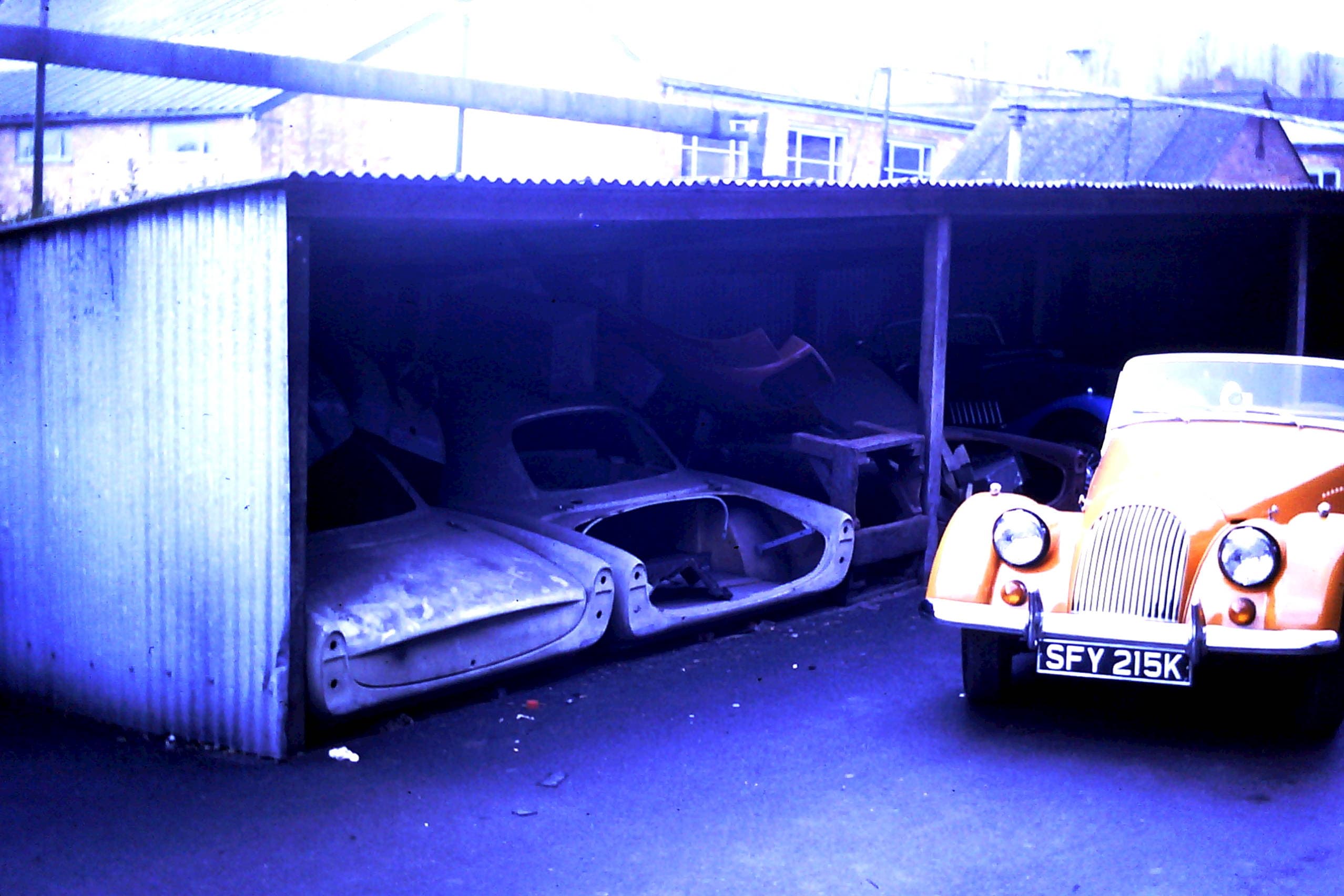 I think it goes back to my childhood! My uncle had left a one-year old MG TF 1500 at my home for three weeks while on his honeymoon, and I was in my early teens, too young to do anything with it other than sit in its red leather seats, move the gearshift and levers back and forth, and dream... He sold that car in 1961 for $150 with a cracked block, and I've never let him forget it!
In 1968, I did a three-month fellowship in London, and saw a beautiful 1960ish Plus 4 at a tennis match there. While taking several pictures (some girl kept getting in the way!), I noticed its classic lines (the car's) belied its performance. I never had the opportunity to sit or drive it, however.
Army Life, Phase 1
While serving in the Army, I found myself in the grand and glorious reaches of western Louisiana, with nothing to do in my spare time but read. Suddenly, the December 1969 issue of Road & Track came across my desk, and hit me like a ton of bricks! There, in all of its pristine glory, was THE car that I had to have! The Plus 8 had just begun to be manufactured, and the idea of owning a car with a shape like that and a V-8 was too much to pass over. I wrote a letter to the factory and received a very properly British reply from a Mr. Day, who was Peter Morgan's vice-president. He had been with the company since Mr. Morgan's father was in charge, even before the first 4-wheel model was produced in 1936. Alas, he is no longer with them. I sent him an order, stating what I wanted on the car, which included almost everything available as an option: bonnet strap, two-tone paint, luggage rack, spare tyre cover, and a rear bumper. I also asked Mr. Day to please install an AM/FM radio. Incidentally, I asked, how much would the total package be? There could be no dickering with this one! By return mail, he replied that they would be happy to supply me with the car as ordered, with the exception of the radio. He said that Mr. Morgan felt that a true sports car driver should be listening to the music of the engine and not of a radio, and thus made no provision for one in the car! After that, I have never once considered putting one in!
I ordered every option that they offered at that time, and the total cost of them came to $150! Then came the anxious waiting period - I was told it would be a five month wait before the car would be finished, and then another six weeks shipping. I received the good news that it was shipped in May, 1971, and then heard that it was being sent to the port of New Orleans instead of Mobile, and thus would take two extra weeks.... I was finally notified of its arrival in Mobile on a freighter loaded with pipe! I could see my Morgan coming in delicately balanced on the top of a vast pyramid of drain pipes! On a Monday morning, I was able to finally take possession with very minimal red tape. However, driving it home would be something else - The windshield, top, and both seats were all packed in the back, so my first drive entailed my sitting on a cardboard box in the driver's compartment and attempting to get the car out of first gear, where it had frozen during the trip overseas. Fortunately, there was a Fiat dealership a few blocks away who was able to help me. In fact, they drove it around the block a few extra times "just to make sure it was all right". I drove it to my uncle's house and assembled the pieces.
After returning to Louisiana to show everyone at the base what I had been talking about for a year, I was transferred to Kirk Army Hospital at Aberdeen Proving Grounds in Maryland. I then put my entire worldly belongings, including all my uniforms, two suitcases, a color TV, blankets, etc., into the car ( with the top up, it was packed completely to shoulder level all around, with only a small cubbyhole for me to sit and drive). It is quite an experience to drive 1500 miles on the front edge of a hurricane that was wearing itself out in a vehicle that is guaranteed to make one claustrophobic! Needless to say, rear-view vision was a luxury that was unobtainable...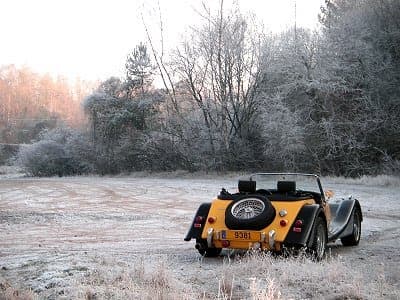 Army Life, Phase 2
I spent a very enjoyable year in Aberdeen Proving Grounds, Maryland, but the weather was so cold that I never got to take the top off once until the spring thaw in May. The Morgan went through eight inches of snow, and weeks of bitter cold, slush, and rain. One hasn't lived until they have tried driving on an ice-slick road with no weight on the rear wheels! It was also something to be remembered to go to a drive-in movie when the temperature was 18 degrees outside ( and maybe 20 degrees inside!).
Disaster struck one night in Aberdeen -- Stopped at a traffic light one night, a drunk in a 1960 Oldsmobile 88 slammed into the Dart behind me, and the Dart then proceeded to try shoving my rear bumper up under the front seat. As luck would have it, the Morgan was low enough that he overrode my bumper and frame and crushed the wooden frame around the spare tire. The repair shop had quite a time learning to fabricate it again. I was afraid that I would have to pick splinters out of my back end for the next six months. It was unfortunate that the Morgan was in the repair shop for six weeks. Even more unfortunate was the car that I was given to drive in the meantime - a 1970 Gremlin...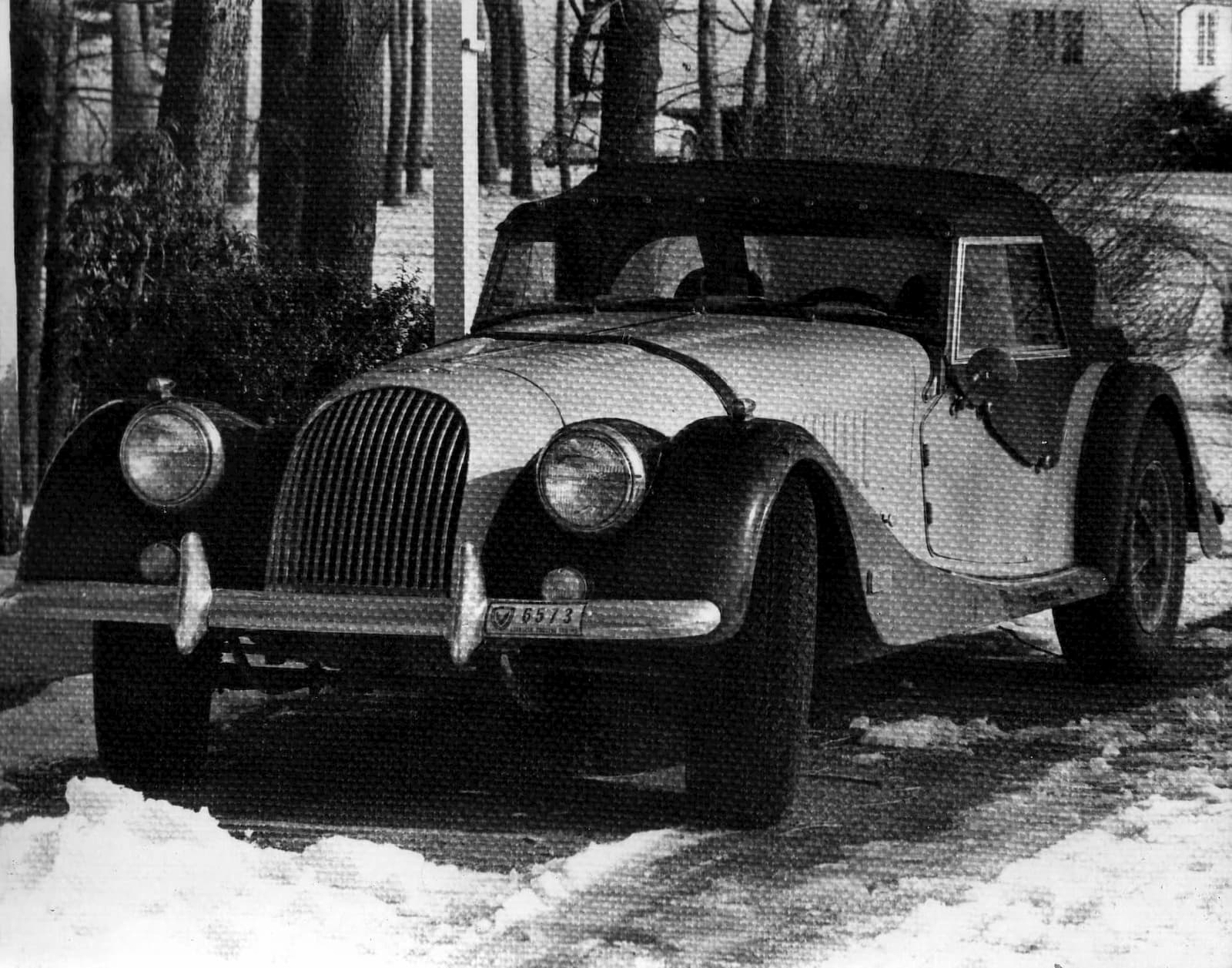 At last I was able to enjoy my car in the Spring. Once, while driving up to Pennsylvania to visit a friend, the engine suddenly quit out in the countryside at 7 PM on a Friday night (typical!). I managed to be pulled back to a service station where we determined that my fuel pump was acting up. We finally figured out that a well-placed blow to the back of the stowage compartment whenever it would quit ticking would start it again. So for the next year I would drive down the road and suddenly reach back and strike the back of the car with my fist. This always caused a raised eyebrow with any passenger that I had.
After receiving my discharge papers in June, I prepared to pack my total possessions back into each cubic centimeter that it came up in. No one told me about the hurricane moving up the East coast that I would be facing going home. I had a sense of deja vu as my three wipers tried valiantly to peel three inches of rain off my windscreen for the next three days.
In 1972, I made my first visit to Morgan Motor Company. It was akin to going to Nirvana, in that the morning I arrived, the weather was cool, gray, with a fine mist surrounding the entrance. I was given free rein in wandering about the place, and poked my nose into all sorts of things for the entire day. Everyone was happy, kind, and interested in answering my questions. There was an open shed to the right of the entrance gate which had all sorts of used and extra parts in it, including two fiberglas shells for the Plus 4 Plus! I wonder whatever happened to them? I met Peter Morgan, who was as nice and polite as everyone said about him, and he told me to just poke around and ask if I had any questions. The shop looked just as it had for the previous 40 years, with dark open timbers and old posters on the walls. This was one of the best days I have ever had!
Mobile, Alabama
Following my arrival in Mobile in 1972, the Morgan served as my primary transportation for the next year. It was assisted by the ever-faithful 1965 Corvair Corsa that I regrettably sold in 2003, but that is another story. It has been my go-to play toy ever since, coming out on days that would do justice to it - beautiful, partly cloudy Spring or Fall days with just a touch of nip in the air, enough to wear a sweater but no enough to raise the hood. It developed some wood rot in 1977, probably from the 1971-2 snows, and I entrusted it to Pierre Fontana to repair. Whilst undergoing its refurbishing, it was caught in an open shed during Hurricane Frederick in 1979. The roof collapsed onto it, but luckily caused no damage.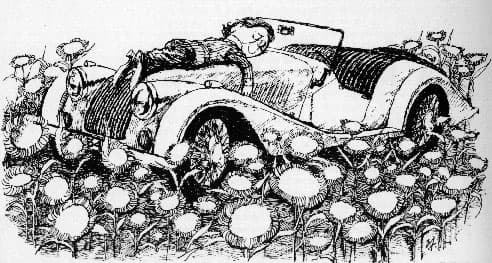 We entered it in the Custom and Sports Car Show in 1980 where it won first place in the Import Division! I remember that well, because one of the Duke boys from the then hot TV show, "The Dukes of Hazzard", was there and spoke with me about it! Since then, I have entered it in only British Car shows, and driven it in a few rallies. I prefer to enjoy it as a driving car, rather than as a museum piece. To date, I have 40,000 miles (and counting!) on the Morgan, 18,000 miles put on in the first 20 months. It is truly a part of the family (as they will attest!), and has occupied a very significant part of my life. Thanks, Peter, you have enriched my life immensely.
I joined the South Alabama British Car Club in 1996, and was shamed into restoring and spiffing up the Morgan by Bob Mason, a friend in Fairhope. Bob was instrumental in harrassing me into improving the detail appearances of it, and I spent the summer of 1992 underneath it, cleaning 21 years of dirt and corrosion from crevices that hadn't seen the light of day since it was originally built! Over 9 pounds of black rust-preservative paint were applied with a brush (along with an unknown amount applied to me!). It has done quite well in the shows, usually placing in its class. Once, in 1993, it even received the Mayor's Choice Award out of 135 entries!
The best thing about Morgans is driving one - There's no experience like it, cruising down a country road with the roar of the engine reverberating in your ears, and your hand resting on the gear shift, ready for the next downshift to go around the car in front of you!
Morgan Trips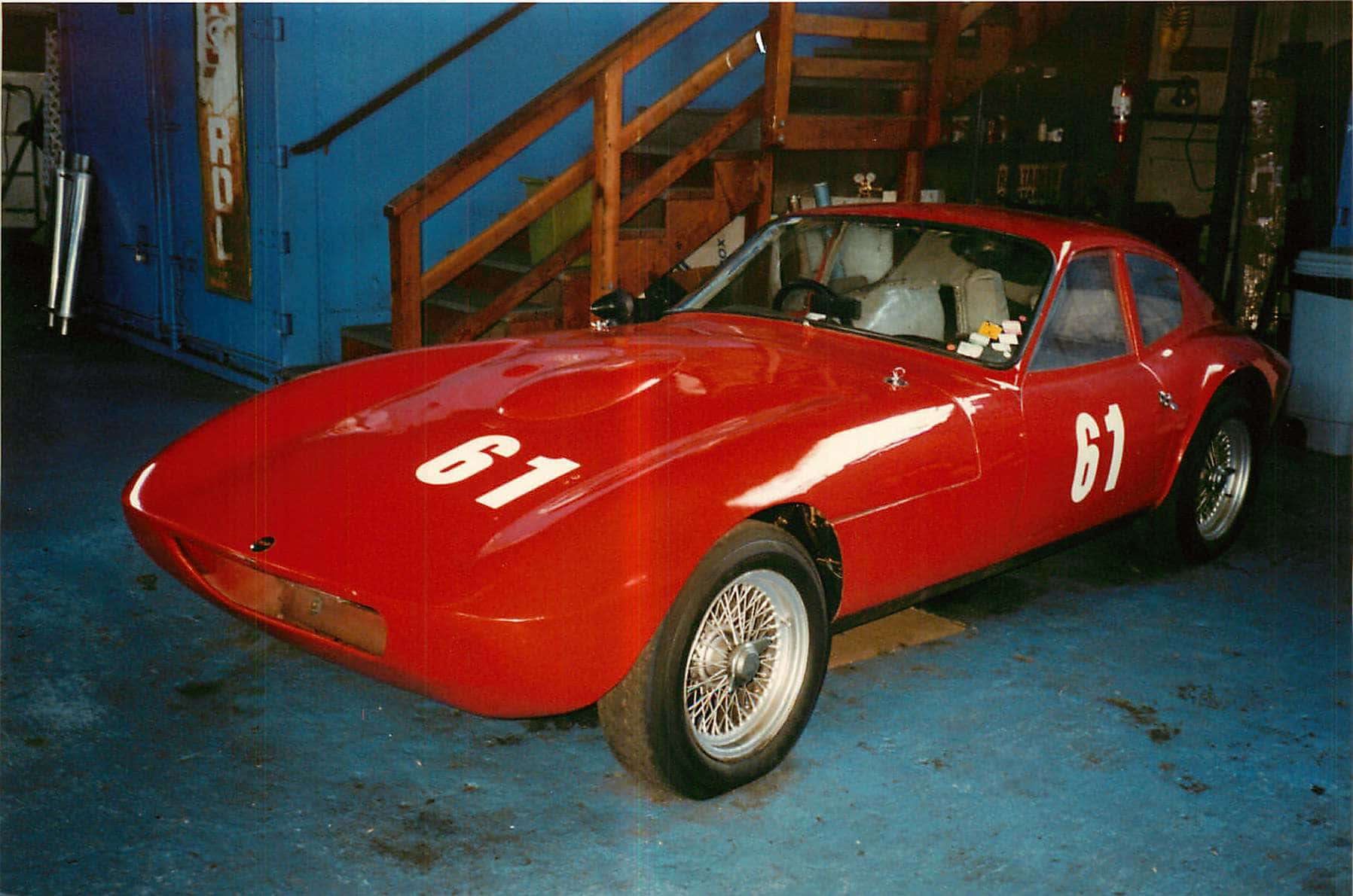 In August, 1996, I visited Isis Imports in San Francisco. Tucked way back in the back of one of the piers was one of the neatest gatherings of cars seen in a long time! There were two 1996 Plus 8s for sale, but even more interesting was the presence of the first prototype Plus 8, a converted Plus 4 from 1967. The only visible difference was two small bubbles in the bonnet to accommodate the SU carburettors for the V8. It still looked mighty potent. That is, until I saw the next car which was under wraps. It was one of only three SLR racing Morgans built around 1962, and the only one in the USA at that time. Needless to say, my camera was working overtime!
In September 1996, I was back in the South Alabama Car Show again, and did well. I replaced the leather interior in December, and redyed the top and tonneau in January 1997. On recommendation from Bob, I sandblasted the aluminum wheels and clear-coated them the natural finish aluminum. It does give it a different look -
The biggest undertaking in refurbishing the Morgan was the body repainting done in 1998 by Mike Darby of Silver Hill, Alabama. He does a fabulous job, both mechanically and with body work. I stripped the car of all exterior items and gave it to Mike for the next year. It slowly but surely began to come together again, and was ready to challenge the world in 1999!
Since then, I have done incremental improvements, both in visual and mechanical, to the car. I have attempted to keep it as close to stock as I could, but have made several changes.
I now have a tinted windscreen, a CHMSL from a Jag, a bimini top, side spats for the doors, and several other items. I still won't put a radio in the car, but do have a cigar lighter outlet for power.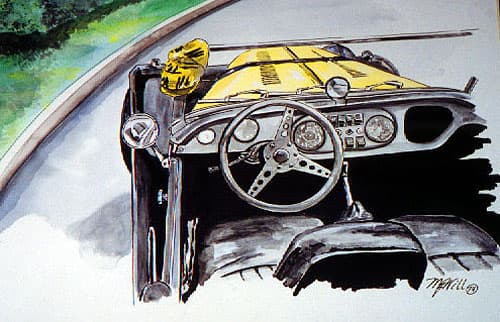 In 2003, all Morgan owners received some bad news - Peter Morgan had died. I responded, as did innumerable other owners all over the world, by running my engine and revving it during the exact time of his funeral service in England. The company has not been the same since then...
I returned to the company in early 2003, and there was a tremendous difference in the place from my previous visit 30 years before. Gone was the dingy floor and walls, and everything was painted a bright and light color. Workmen were more assemblers now than craftsmen, but it was still a hands-on procedure. I still had free rein to wander about, as they had not started paid conducted tours at this time, and was able to see in the experimental building where their idea cars were kept. It looked like an early trike adaptation was there, as was an Aero modification. Others, I wasn't sure of why they were there. Everything was much more business-like, even to the construction of a parts department/souvenir shop! I guess they had seen the lucre in the light...
In 2003, Carolyn and I went up to West Virginia for a National Morgan meet, and got to actually meet some of the people I have been emailing for years. It was a great meet, except it was too far to drive the Morgan. In 2006, we joined the MogSouth group in northern Alabama for a rally, and had a blast - It was even more exciting when my electric fan quit on me, and we had to drive 300 miles home, coasting as much as we could, and shutting the engine off at each stop.
We made it without difficulty, and I was able to procure a replacement fan from Duncan Charlton. In 2009, we flew out to visit my son and his wife, and made the International Morgan Meet in Sonoma, California, where there were over 150 Morgans present! Even Charles Morgan and his wife were there. It was great fun to see all the cars racing around the track!
Morganville
Around 1998, I became acquainted with Lorne Goldman, and we have been good friends since then. He established the site Gomog and the eMog club, which flourished for the next 15 years, and Gomog is still the bible for detailed information about Morgans. I began Morganville also that year, and it has listed over 5000 Morgans since then. It provides a registry, price history, and production history for Morgans since their inception, along with a bibliography going back to the first year of Morgan production! There is also a History of Morgan events throughout its history.
My family tolerates my obsession with anything Morgan, and tries to placate me! As Carolyn told me when we were dating, and I was rattling on about the Morgan, "You know, I can compete against another woman, but how do I compete against a car?". When others ask about it, I reply, "The Morgan is the oldest member of my family!", and she just rolls her eyes... She teases me that most men carry pictures of their family in their wallet, but I have one of my car!
I have never named the car, but only referred to it as "The Morgan". I'm not sure why, but I just don't name cars. It will always just be known as what it is: The Morgan.